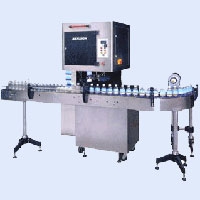 The sales of food products, household chemicals, cosmetics, pharmaceuticals and other goods are affected by the packaging of goods.
First of all, the buyer pays attention to the appearance of the offered product, to the indicated information, as well as to the quality and tightness of the package itself. The attractive appearance of the goods on the counter along with price and quality guarantees the good demand and thereby it is the best indicator of sales. In this regard, each product must be in modern high-quality packaging. One of the ways to achieve this is using the technological and modern equipment. The company Don-Polymer LLC is ready to bring to your attention equipment for applying heat-shrink labels — applicators. Applicators are characterized by ease of use, versatility, reliability in operation, high accuracy and a high level of performance.
Applicators are intended for an automatic putting on a thermoshrinkable label on a rigid container. In this case, a label sleeve from a roll is fed into the applicator. The sleeve can be made out of various types of films (PVC, PP, PE, PET, OPS).
Applicator speeds range from 3,000 to 36,000 application per minute.
Applicators offered by Don-Polymer LLC:
Compact and easy to install and operate;
Made of the reliable and high-quality materials, which ensures a long operational period and stable operation;
They are selected optimally for high-speed modes of filling lines and the required tasks;
Provide an automatic operations;
They are used for labeling containers of various materials and shapes (glass, plastic, wood, metal);
They have a clear control system and are safe for the operating personnel;
Provided with the consumables and technical support;
Convenient to maintain and replace consumables;
Buying the equipment from the company Don-Polymer LLC you get quality, reliability, technical support and affordable supplies. The final result depends on the correct choice of equipment.