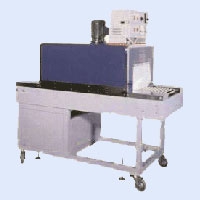 Designed to create a temperature corridor when packaging the various types of products in shrink film: packaging, group packaging, label. They can be used as part of semi-automatic and automatic packaging lines, as well as together with the applicators.
Either electric or steam tunnels are used to shrink the film.
In an electric tunnel, the source of heat is the heated air, which is distributed by fans along the entire length of the tunnel chamber.
In a steam tunnel, the source of a heat is hot steam. A steam tunnel is more often used to seat shrink labels.
Steam shrinkage provides excellent shrink quality of the shrink label due to the uniform steam coverage of the label surface and uniform temperature. Steam tunnels make it possible to work with packaged materials of complex shape, which leads to ideal shrinkage of the label and a high level of the productivity.
Tunnels are divided according to a number of parameters: length, presence or absence of an automatic temperature controller, number of chambers, and so on. Thermotunnels are selected based on the speed of the line and the tasks that they face.
With the help of tunnels, the packaged product is tightened, taking the shape of the product. Also, the packaged product has a more attractive appearance, takes up a smaller area, creates a good overview of the product itself (for example, juices, ketchups, mayonnaises, etc.) without opening shrink packaging, protects against dust, moisture and other influences. When applying full color printing, the shrink film itself acts as a colorful label, which is not afraid of the sun, moisture, temperature changes, is resistant to mechanical stress and scratches.
The company "Don-Polymer" offers only high-quality heat-shrink equipment for packaging a wide range of products. The use of the thermal tunnels will achieve high performance in packaging products.